2014 Hot selling silicone baking sheet
Introductions
Quick Details
Type: Oven Parts
Packaging & Delivery
Packaging Details: baking sheet is packed in plastic bag, carton, pallet
Delivery Detail: 3-10 days after baking mesh sheets ready
Specifications
baking sheet
1.Manufacturer,stocked.
2.Super non-sticky character, high temperature resistance
3.FDA/SGS/REACH/PUNY tested.
Specifications:
High electric insulation skive colored ptfe film
1.Widely application
2.Good chemical stability
3.ISO9001:2008,FDA,SGS,ROHS
Product Name: 2014 Hot selling silicone baking sheet
Backing sheet specifications
1.Use as gaskets,grilled platters,microwave washer for heating foods.
2.Anti-stick linings, gaskets, bandage and so on.
3.excellent anti-adhesive, can easily remove grease, stains on the surface, can be used
repeatedly
4.can prevent oil spill to the bottom of the oven in the baking process
5. can safely used in dishwasher,,innocuity, safe contact with food, also has anti-corrosion
features
6.Developed to prevent sticking of the dough to the bottoms of platic containers and allowing a
smooth transition between the tray and dough divider.Effective even for high dydration
bread-making.Allow working without dusting(limiting flour dusting)
7.Designed for multiple uses and ideal for viennese pastries and sugar-based preparations.
8.Suitable for food contact
9.Designed specifically for baking special,round or non graded bread.
Products view :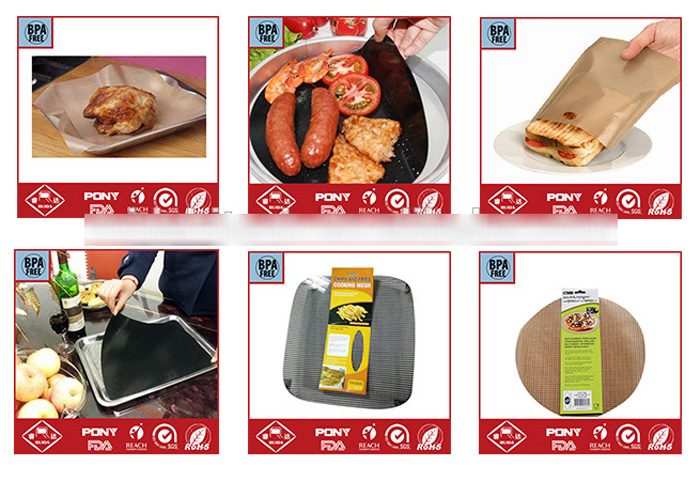 Baking sheet,Oven liner,Cooking sheet,Convyor belt,Basket,Toast bag.

Various of size at your request can be tailored.